What if Coca-Cola never had the famous red and white contour bottle that we all know so well? Would it still stand out on store shelves, and be a global phenomenon? Or would it just blend in with all the other soda brands?
What is branding?
Before going in-depth, let's first understand what branding is all about.
Branding is the process of creating a unique and memorable identity for a product, service, or organization. It not only involves creating a name, logo, and tagline, but also other visual and verbal elements (imagery, typography, packaging design, and brand story, to name a few) that differentiate the brand from its competitors and communicate its values and personality to the target audience pretty well. Thus, branding is so much more than what's mentioned in a standard definition, it's about crafting a holistic experience for customers that is consistent, memorable, and meaningful. A successful brand creates an emotional connection with its audience, and that connection becomes synonymous with the brand itself. From the design of the product to the way it's marketed and sold, every touchpoint should reflect the values and personality of the brand. This is what makes a brand truly iconic.
Different aspects of branding
Key takeaways
Outlining your mission and vision.
Market Research
Brand Identity
Brand Narrative
Brand Guidelines
Brand Collaterals
Package Design
Outlining your mission and vision.
Building a strong foundation for branding involves understanding the founder's mission and vision statement. In simple terms, a vision statement refers to what your firm's long term aspirations are and the problem it's solving, while a vision statement describes how you aim to accomplish the said vision in the future. A mission and vision statement serve as guiding principles for smooth operations and decision-making. By clearly articulating a purpose, it is easier to create a distinct brand.
Market Research
Market research is interpreting data on consumer behavior, preferences, and trends in order to establish a brand that appeals to a target market. It makes sure that the brand is in line with current trends, fills any gaps or unmet demands in the market, and helps understand the strengths, weaknesses, and identifies areas for improvement.
Brand Identity
A brand identity includes the visual elements of a brand, such as a logo, color, typography (the use of a specific font and its styles), and imagery (images and graphics that convey the brand's message). It's the visual representation of the brand that helps customers recognize and remember it.
Brand Narrative
A brand narrative, in a nutshell, is a condensed, appealing story that serves as a framework for an organization's marketing and communications efforts. It describes the brand's history, vision, and mission. Again, great storytelling not only establishes an emotional connection with the customer but also creates a competitive advantage.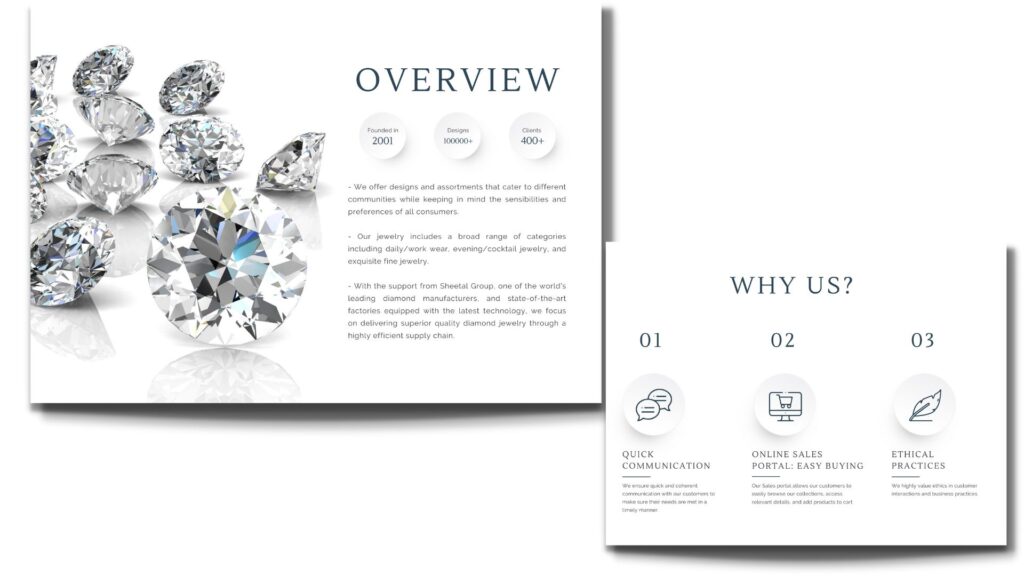 Brand Guidelines
A collection of rules that govern how a brand should be portrayed is known as brand guidelines. It contains guidelines on logo usage, color scheme, voice, tone, typography, and images to maintain brand consistency and cohesiveness. Let's take a logo for an example; brand guidelines specify its design, acceptable sizes, usage and colors to ensure brand uniformity across.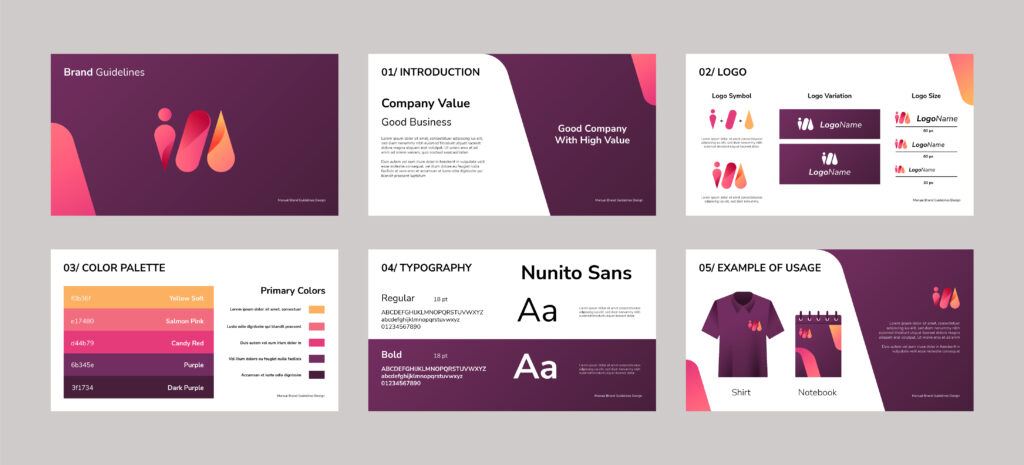 Brand Collaterals
Brand collaterals are various media products that highlight the brand identity, build credibility and reinforce the brand image and message. They must adhere to the brand guidelines to ensure consistency across all touchpoints. Brand collaterals range from stationary, business cards, newsletters, brochures, and gift cards to pens, mugs, t-shirts and tote bags.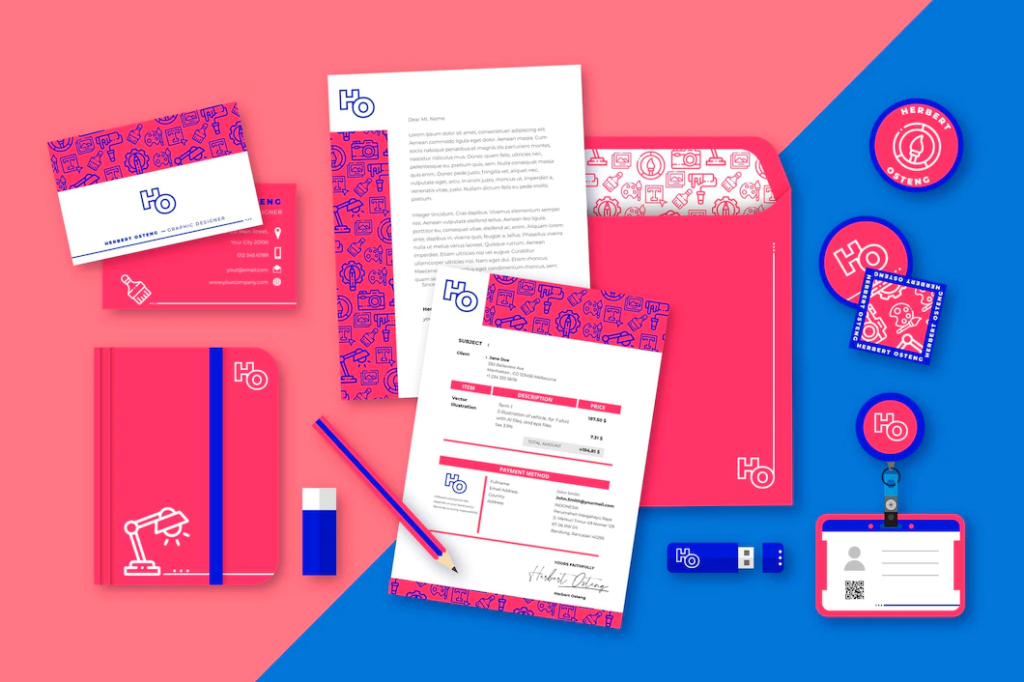 Package Design
Packaging design plays a key role because it provides a memorable brand experience. It is the customer's initial point of contact with the product, and it should reflect the brand's identity and values. It also makes a good first impression allowing for the communication of relevant product information. A customer's buying choice might also be influenced by the design. Innovative, eye-catching designs help a product stand out on the shelf, even leading to brand loyalty. Customers link the package with a positive experience they had with the product and prefer to pay for it again.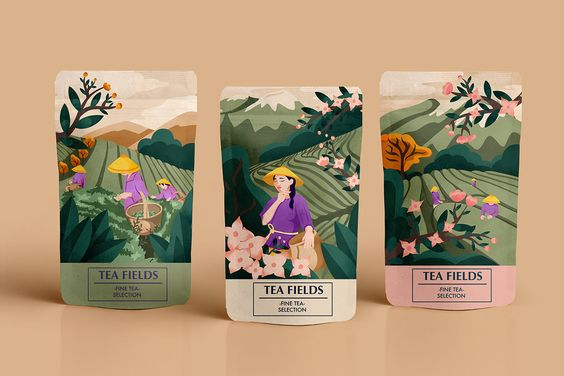 Why is branding important?
Now that we have covered the basics, let's try and understand how essential and impactful branding is. A strong brand could offer certain benefits to a company, including:
Increased brand awareness
A strong brand can assist with standing out and making an impression in a competitive market with a unique selling proposition (USP) by making it easier for customers to recall and recognize the brand. Thus, it enhances brand recall (the ability of any customer to remember your brand).
Enhanced credibility and trust
A solid brand helps consumers develop trust and credibility by associating the brand with high-quality items or services. Zippia claims 82% of customers prefer to buy from businesses that reflect their values, and 83% prefer to buy from brands they trust.
Increased customer loyalty
A powerful brand establishes an intense attachment with customers, leading to increased customer loyalty, good reviews and most of the time, repeat business.
Higher perceived value
A strong brand could foster in consumers a sense of superior quality, allowing the company to charge higher prices and enhance sales and ultimately, profitability. Consistent branding can increase revenue by up to 33%, according to Zippia. Companies that implement effective branding strategies and incorporate visual content in their marketing campaigns experience a conversion rate that is 7 times higher compared to those that do not.
Expansion opportunities
A successful brand can tap into new markets to grow, and more readily introduce new products with confidence.
How to go about creating a brand?
To cut through the noise with creative, engaging branding, one should focus on three main areas: defining your brand, building a brand strategy, and creatively implementing it.
Before you can build a visual and verbal identity for your business, you must first figure out what it stands for and what sort of personality it possesses. As mentioned earlier, identifying your brand's core values, mission statement, and target audience and determining what kind of messages will resonate with them is part of the process. By defining your brand, you will be able to create a strong foundation for your branding efforts.
Next comes developing a visual identity for your company, including a name and logo. Your brand name should be simple to remember and pronounce, and your logo should be aesthetically appealing and reflect the personality and values of the business that you run. Additionally, your tagline should be memorable and appealing, and the message you convey should be consistent throughout, using properly set up brand guidelines.
If you've got a grasp of the aforementioned information on branding, great going! However, it is understandable for a founder to be overwhelmed because they might not be an 'expert' at branding. This is where a creative agency like Media Mousse comes into the picture; an invaluable asset in creatively implementing your brand from scratch.
Through branding services, graphic design, website design and development, content writing, ad concepts, appealing brand stories, brand positioning, business and marketing consultation (to name a few), Media Mousse can help bring a brand to life. A creative agency like ours solves problems on a creative level, assists in developing brand guidelines, maintains consistency across all branding initiatives and guides you in reaching a larger audience. A creative agency also offers new ideas and insights that will help you stand out from the crowd. By performing market research, comprehending client persona, and analyzing consumer trends, we at Media Mousse help you expand. This data is utilized to create marketing campaigns and branding strategies that appeal to your target demographic and resonate with them better.
How Coca-Cola is 'killing' their branding game
Coca-Cola has been an influential player in the beverage industry for decades, adjusting to shifting customer trends. It has built a distinct and easily identifiable brand identity that connects with customers all around the world with its iconic red and white color scheme, the shape of its bottle, the curved font of its logo, and the catchy tagline "Taste the Feeling". These visual elements have become synonymous with the brand and are easily recognizable even without the brand name.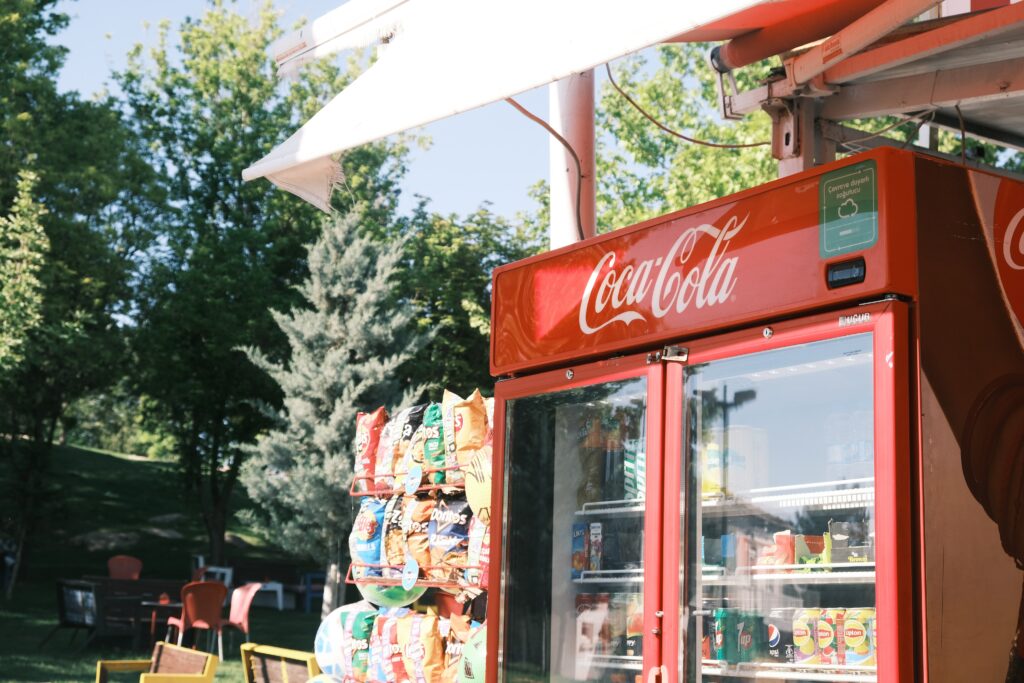 Anyone could reminisce the summers spent, with beads of perspiration dripping down our foreheads, the only way to cool down would be gulping down a bottle of chilled, fizzy Coca-Cola we saw on television the other day, being advertised as a refreshing beverage that encourages sharing and brings family and friends together.
Coca-Cola has also realized the increasing demand for healthier choices in recent years and has expanded to include low-sugar and sugar-free options. This displays the company's capacity to respond to changing consumer demands.
Its strong brand identity, powered by its emotional ties with customers, collaborations and sponsorships with well-known events, sports teams, celebrities and capacity to adapt has allowed it to continuously flourish. They basically check all the boxes.
Conclusion
While developing a successful brand takes patience and effort, investing resources and time can help a company excel and even go global in the long run; well worth the commitment.