"Rebranding is not a sprint; it's a marathon. It requires careful planning, strategic execution, and consistent follow-through."

– Simon Mainwaring.
Haven't we all, at some or the other time heard that evolution is the key to survival? Those who adapt and embrace change are the ones who flourish. In the ever-evolving business landscape, staying relevant and appealing to customers is crucial for longevity. Sometimes, businesses find themselves at a crossroads where a rebranding effort becomes necessary.
But how can you know when it's time to rebrand? Frequently enough, the signs are overlooked, and even when you do notice them, deciding on where to begin on a rebranding project can be a task in itself. But don't fret! In this blog, we share with you the red flags you should be on the lookout for, that indicate whether you need to rebrand or not.
What Is A Rebrand?
Rebranding is the process of altering how people think of a company or product. Think of it as refreshing your brand image, either subtly tweaking or completely changing your name, tagline, logo, as well as website and collaterals. It is a way of embracing, redefining, and engaging with your audience in a whole new way; rediscover, breathe fresh life into your business, and fall in love with it all over again.
Key Indicators That Your Brand Is In Need Of A Makeover
Key features
Outdated Appearance
Connect To Newer Audiences
Lost In The Crowd
Suboptimal Brand Name
Struggling To Implement Price Raises
Tapping Into New Markets
Undergoing A Business Change
Distance Yourself From Negative Perceptions
1) Outdated Appearance
Customers are more inclined to turn to businesses that look modern, inventive, and up-to-date. An out-of-date brand conveys the notion that your company is trapped in the past, and out of touch with the current market trends, and customers will likely turn to your trendy competitors.
2) Connect To Newer Audiences
As new generations of customers arise, it is expected that they might not connect to older visual and brand identities. Today it is the GenZ era, and rebranding surely will allow businesses to appeal to all generations by addressing their unique preferences, values, and communication styles. By incorporating contemporary aesthetics along with optimizing social media platforms and websites, businesses become accessible to younger consumers through the channels they frequently visit.
3) Lost In The Crowd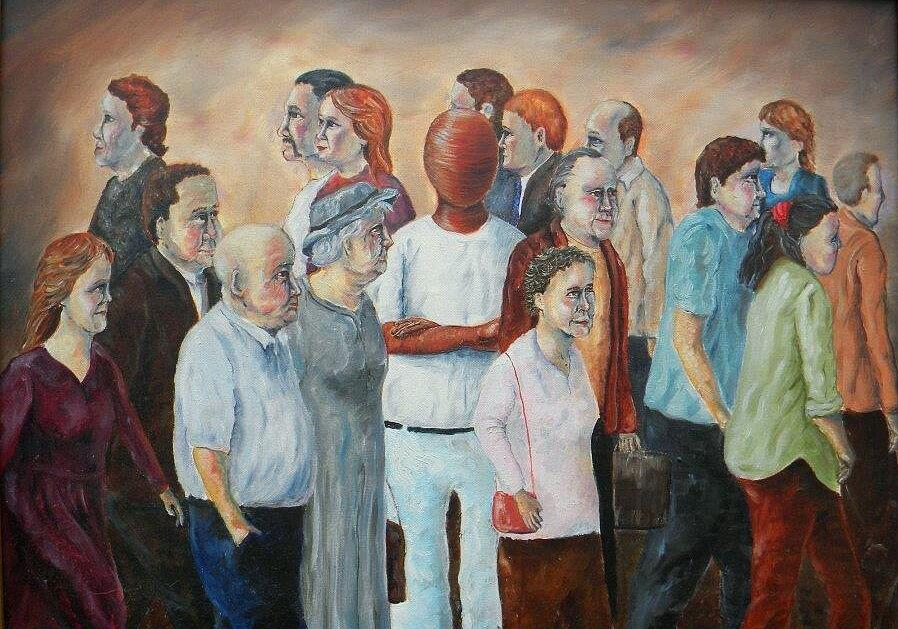 When your clients cannot tell the difference between your brand and the competition, it's time to consider rebranding. Sales and business growth can be incredibly difficult without clearly identified differentiators. So, analyze your competitors' branding strategies; identify and leverage key differentiators to make you stand out, increase visibility and drive sales.
4) Suboptimal Brand Name
A brand name serves as the cornerstone of your brand identity, acting as a representation of your values, products, and overall image. However, as businesses evolve and their vision expands, it is common for the initial brand name to become askew with the brand's current direction and aspirations. If it is unable to maintain cohesiveness and communicate your USP with the target audience, you must consider modifying your brand name, only and only if you are a startup or can afford good marketing initiatives. Make your brand name distinctive, and most importantly, memorable.
5) Challenge: Implementing Price Raises
Rebranding enables you to redefine and reinforce your brand's positioning in the market. You can give off a sense of quality, exclusivity, and authenticity by revamping your brand identity, message, and visual aspects including colours and fonts. Customers are ready to pay more for products and services associated with a premium, high-value brand, allowing you to impose higher rates and charge what you're worth. A rebrand can successfully communicate key enhancements and added value to your products or services to clients, whether it be a product launch, service upgrades, or enhanced customer experience.
6) Tapping Into New Markets And Audience
When businesses first start out, they frequently carve their niche and want their branding to be extremely descriptive so that customers understand what they do. Your present brand name may no longer convey the scope of your offerings if your company expands into new markets and geographical locations or launches new products.
When you try to branch out, a very specific name will constrain you and limit your potential, especially if you have a city or region incorporated in your brand's name. Depending on the niche or the existing positioning of your company, rebranding allows you to make adjustments to your brand in the form of visual communications, reflecting on your company's broadened audience and capturing the very essence of your new business operations. It not only aligns with the cultural preferences, values, and sensitivities of the new market but also aims at you being perceived better by local consumers, basically guaranteeing a smoother entry into the market.
7) Undergoing A Business Change
When two companies come together through a merger or acquisition, they frequently have unique brand identities and visual representations. If a company's branding includes a person's name and the person is no longer involved, a name change is essential. Rebranding allows these identities to be blended into a unified and cohesive brand that reflects the combined strengths, values and goals of both businesses.
8) Distance Yourself From Negative Perceptions
When customers begin to link a brand with undesirable experiences and reputation issues, it hinders growth, credibility and engagement with the clientele. Improving your brand by taking feedback, working on your flaws, and making things better appears to be the only realistic way to reintroduce yourself, move forward and distance yourself from the negative image and past mistakes. It rebuilds that trust, reshapes perception and helps you make a fresh start.
Dunkin' Donuts' Recipe for Success: A Tale of Rebranding and Innovation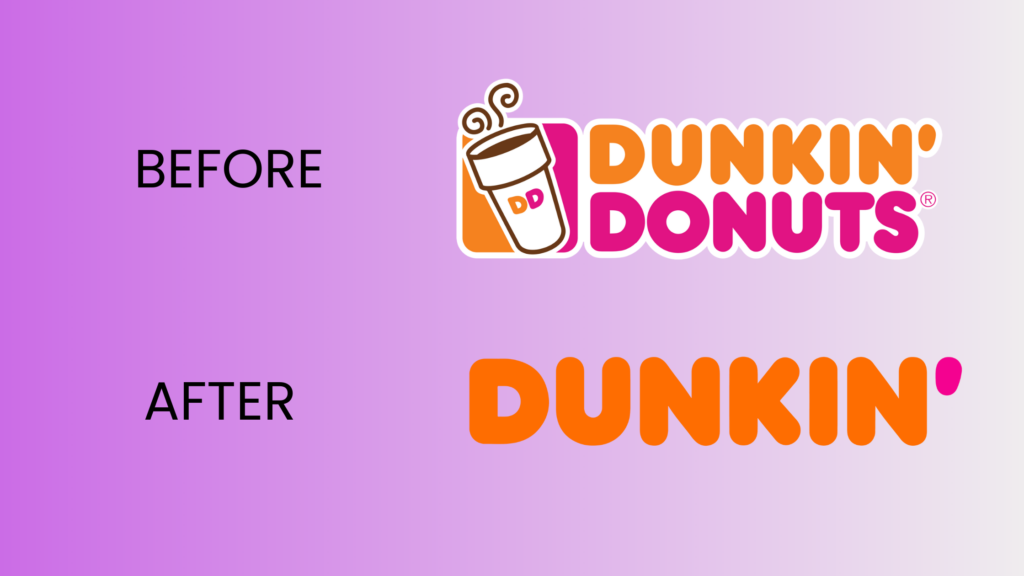 Take Dunkin' Donuts as an example. The company's branding was simple and basic in its early days, expressing that it was a go-to spot for doughnuts and coffee. This strategy was successful in drawing the attention of doughnuts and coffee enthusiasts looking for a quick treat.
However, as Dunkin' Donuts extended its menu to include more breakfast and lunch options and a wider selection of drinks, the company encountered some difficulties. The original name and logo no longer accurately conveyed the growth of the brand and no longer represented the complete variety of food they were offering to consumers; it limited them.
So what happened next? They strategically dropped the term "donuts" from its name and rebranded it as "Dunkin'." This transformation enabled the company to embrace a more inclusive identity, allowing the brand to transcend its initial association with doughnuts, establish itself as a diverse and dynamic quick-service restaurant, and cater towards a broader range of customers.
Conclusion
As businesses grow and diversify, it becomes crucial to reassess and potentially rebrand to ensure the brand's identity, target audience, and market trends remain aligned with its evolving aspirations, paving the way for continued growth, relevance, innovation, and success. Embrace change, invest in a thoughtful rebranding strategy, and position your business for a brighter future.
12 Signs It's Time to Rebrand (ignytebrands.com)
Are you unaware of branding all together? This blog can give you a head start: A Complete Guidance To "What Is Branding" | Media Mousse